Don't forget,
Cars 2
(rated G) premiered last Friday. I am so thankful
Galaxy Theater
is finally offering one theater of 3D and one theater of regular 2D. I guess I am getting old, but the 3D gives me a headache, my daughter doesn't wear her glasses, and it costs a lot more. I LOVE having a regular 2D option! My daughter has been looking forward to seeing it since the first advertisement we heard for it at least a year ago.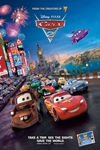 Although temperatures are on their way down, this is a great way to spend a summer afternoon, hit the weekday all-you-can-eat buffet (11am-2pm) across the parking lot at Pizza Factory before your movie and that'll save you some money at the concession stand.